This article originally appeared at https://www.theguardian.com/uk-news/2023/may/15/isle-of-man-grow-cannabis-business-diversify-economy
The Isle of Man has for decades been dominated by offshore financial services, but now its government is planning a push for a new kind of economic growth: medicinal cannabis.
The British crown dependency is hoping to license as many as 10 firms by the end of 2025 to grow and export medicinal cannabis products from the island as part of a strategy to spur development.
Tim Johnston, the Isle of Man's minister for enterprise, said the island's government was "really looking to diversify our economy", and that encouraging a medicinal cannabis industry was one aspect of a plan to nearly double GDP by 2032, create 5,000 more jobs, and give younger Manx opportunities on the island.
Johnston said: "We recognise we've got an older population. We're keen to see that change."
The island in the middle of the Irish Sea has a population of 84,000, and an economy that has long left behind sectors such as fishing in favour of financial services.
Insurance is the largest sector of its economy, accounting for nearly a quarter of the £5bn annual output, while the next largest is gambling: island firms offer "white label" services to essentially lend their licences to non-UK companies.
It is also judged as a tax haven and a financial secrecy jurisdiction by tax campaigners. The Tax Justice Network judges that financial flows through the territory cost other countries billions of pounds every year in lost revenues.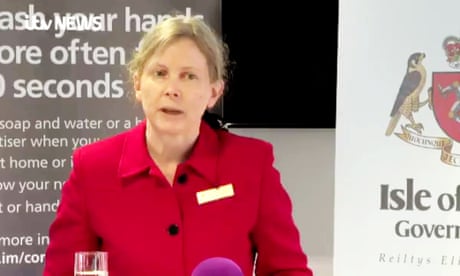 Johnston rejected criticisms of the role of the Isle of Man's financial services industry in the global economy, saying the island has strong regulation and transparency. However, he said there was overwhelming support for looking towards medicinal cannabis and other industries as the government seeks to increase the island's population to 100,000 over the next 15 years.
He said: "As a high-value, low-volume manufacturing business it fits well into what we need to do on the island. We need to make sure when things are exported they are high value."
The government issued its first conditional licence to the startup GrowLab Organics last year. One oddity is that licensing is being handled by officials sitting under the island's gambling regulator, as the government decided it would be quicker than setting up a new body.
Cannabis-based medicinal products – which are mainly prescribed for chronic pain – were legalised in the UK in 2018, after similar moves in much of Europe, Canada and several US states.
There is no sign yet of recreational cannabis being legalised in the UK, although it is legal in some US states, Canada, Uruguay and the Netherlands – a list soon to include Germany.
Only specialist doctors can prescribe the drug in the UK and all companies selling it have to meet the exacting requirements of the Medicines and Healthcare products Regulatory Agency.
The Isle of Man producers will not have a free run at the UK market. The island is following in the footsteps of Jersey and Guernsey, two other crown dependencies, in legalising medicinal cannabis cultivation. Growers will also be up against rivals in regions where the drug has been legalised, including California and Canada, where the industry boomed before a spectacular bust.
Producers will also compete with a handful of UK companies which have gone through the arduous process of gaining Home Office approval to produce medicinal cannabis. GW Pharmaceuticals was the UK pioneer before being bought for $7.2bn (£5.7bn), while Celadon Pharmaceuticals this year won the ability to sell cannabis oil in the UK. Phytome, based in Cornwall, is focusing on researching and extracting compounds from cannabis plants, rather than selling to pharmacies.
Another UK startup is Dalgety, which is part way through the 14-week growing period for its first batch of plants in Staffordshire.
James Leavesley, Dalgety's operations director, cited a recent poll by YouGov – commissioned by a medicinal cannabis clinic – that estimated 1.8 million people in the UK use illegal cannabis for medicinal purposes such as pain management or anxiety. Dalgety wants to give those people an option to buy a safer, consistent, regulated product rather than relying on street dealers, he said.
Dalgety said: "The key challenge for the industry is to let people know that there are legitimate routes and safe routes. The bottleneck is the awareness for doctors as well, to know there are a lot of people choosing to self-medicate for it. They have only ever known it as a bad thing."
GrowLab Organics on the Isle of Man hopes to export 15 tonnes each year. It has applied for planning on the island to build a growing facility. Once that facility is built it will qualify for a full licence, provided it meets defined criteria. The dried cannabis flowers would largely be used in vaporisers, to be inhaled by patients.
One of the island's main advantages was "to be legislatively agile", said Alex Fray, one of GrowLab's founders and an Isle of Man resident for almost a decade. "It has to keep reinventing itself to survive."
"This is a really unique scenario where you have a very deep, liquid market for something, but it's illegal," he said. "That transition from illegal to legal is very, very rare."